Salt & Honey is a London based business run by Tamsin Gordon and with over 20 years experience of professional cooking she and the Salt & Honey team offer a full catering service. Planning a canape party, need a private chef or just want your freezer filled? Salt & Honey will devise gorgeous seasonal menus using ethically sourced and, where possible, local produce.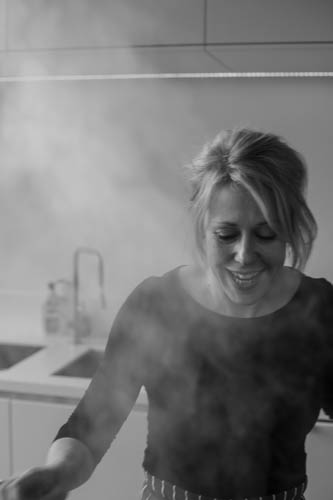 We take eating seriously, so put as much thought and effort into a working breakfast as we do a dinner party. Let us know your requirements. We can drop off a pre packed lunch or cook you a 10 course tasting menu and everything in between.
Salt & Honey can arrange drinks and canapés tailor made for your party. Let us know your theme and we'll do the rest. From one bite taste sensations to miniaturised classics to bowl food, we make it our business to keep up with food trends and exciting new ideas.
Canapes
The below is a very small selection of canape and dinner ideas, please email for our current list of seasonal options and to discuss any specific requirements. Prices vary but as a guide a selection of 6 bites over 6 choices starts from £14 per head.
Smoked Trout, Enoki & Miso Cucumber Cups
Miso Glazed Aubergine, Tahini Tofu Cream, Pomegranate
Beetroot & Gin Cured Salmon, Horseradish Cream, Potato Rosti
Courgette Wrap w Baby Kale, Mizuna, Goats' Curd
Smoked Cod's Roe, Quail's Egg, Esplette Pepper
Confit Cherry Tomato, Goats' Cheese Mousse, Paprika Shortbread
Sesame Sashimi Tuna, Yuzu Dipping Sauce
Mini Taco, Chipotle Pulled Pork, Sweetcorn & Avocado Salsa, Pickled Ginger
Beef Carpaccio, Gorgonzola, Tarragon, Polenta Cake
Yorkshire Rhubarb & Blood Orange Cheesecakes
Salt Caramel Tartlets
Matcha Green Tea Meringues, Bitter Chocolate
Lunch/Dinner
Again, this is a very small selection of ideas. Please get in contact for the current seasonal options.
A 3 course menu starts from £36 per head
Burrata, Figs, Truffled Honey, Pickled Walnuts, Fennel
Cornish Mackerel, Pickled Cucumber, Apple Puree
Heritage Beetroots, Goats' Curd, Honey, Rosemary & Pine Nuts
Beef Carpaccio, Celeriac Remoulade & Walnuts
Halibut, Miso & Seaweed Beurre Blanc, Seasonal Greens, Wild Mushrooms, Celeriac
Pressed Lamb Breast, Loin & Sweetbreads, Baby Carrots & Turnips, Minted Hollandaise
Poached Free Range Chicken, Crispy Skin, Sweetcorn Puree, Runner Beans
Roast Hake, Chickpeas, Aubergine & Tomatoes, Chorizo, Rouille
Duck Breast, Confit Leg, Roasted Plums, Celeriac Gratin, Cavalo Nero
Chocolate Tart, Sea Salt, Peanut Brittle
Blackberry Crumble, Buttermilk Ice Cream
Damson Ice Cream, Honeycomb, Shortbread
Lemon Posset, Soft Almond Biscuit
Salt & Honey
London SE15
info@salthoney.co.uk
07801 497 178